The Academy of Our Lady of Guam continues to be blessed with giving alumnae who want to help make a difference in the lives of Academy students. Young women who call Academy home during their high school years become part of the "sisterhood" and the Academy Legacy. The school is tremendously grateful for the generous alumnae donors who continue to give to help their "sisters" at the Academy obtain a college preparatory Catholic secondary education. This growing number of alumnae donors is truly exemplary of Catherine McAuley's mission to help educate women and children. Recently, the school received scholarships from the Malilay and Ecube daughters all of whom are alumnae of the school.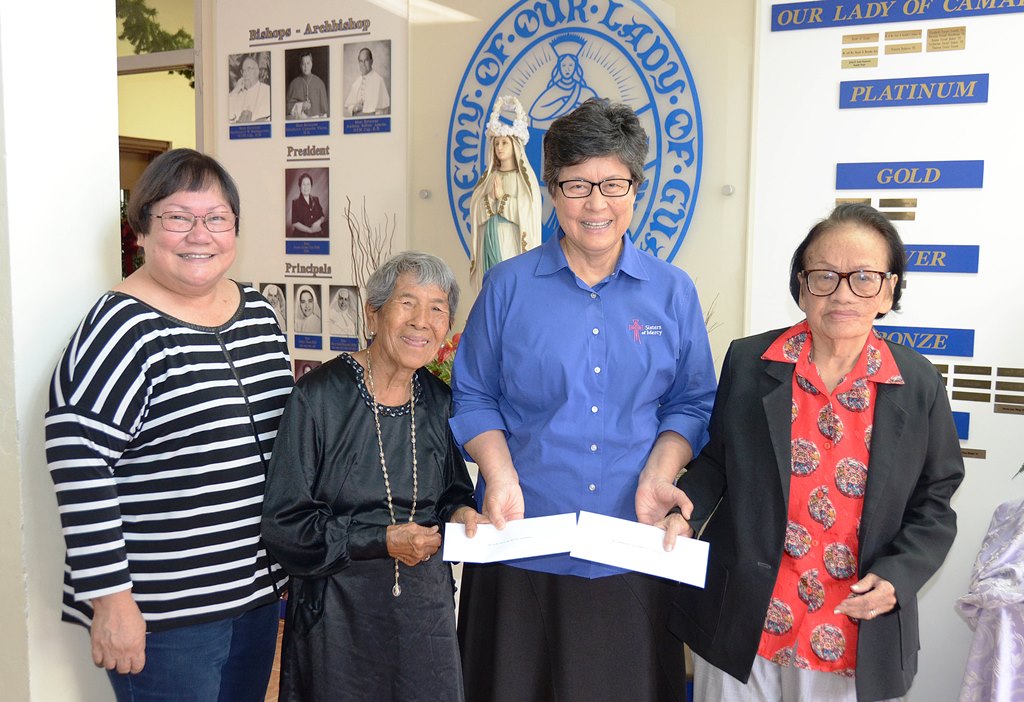 Pictured (L-R) Mary A.T. Meeks '69, Principal, Pilar Malilay (Pilar Poblacion Malilay Scholarship), Sr. Mary Angela Perez, RSM '64, President, and Rebecca Ecube (Rebecca and +Dominador Ecube Scholarship).
The Pilar Poblacion Malilay scholarship was established in 2006 by her four daughters who named the scholarship in honor of their mother. Founding members of The Pilar Poblacion Malilay Scholarship are alumnae: Dr. Josephine Malilay, '74, Attorney Grace Malilay, '77, Agnes Malilay White RN, '79, and Dr. Janice Malilay, '80. Each of Mrs. Malilay's four daughters attributes their educational achievements to their mother's sacrifices, dedication, and trust in God. Mrs. Malilay strongly believes "education is very important," and "women should be independent in today's changing world." According to Mrs. Malilay, "once you are educated, you will have no problem with your success in life."
The Rebecca & +Dominador Ecube Scholarship was established in 2008 by their daughters Cynthia V. Ecube '80 and Angela V. Ecube '88. Both daughters continue to succeed in their chosen thriving professional careers. The Ecube alumnae contribute to the Academy of Our Lady of Guam Endowment Fund on a regular basis for scholarships. The Ecube contribution is given in honor of the diligent efforts, sacrifices, and commitment made by their parents towards their education. Attorney Cynthia V. Ecube '80 currently serves as the school's Advisory Board Chairperson.
Since its foundation, the Academy of Our Lady of Guam has been dedicated to excellence. The school is proud of the many young women who have been part of the Academy family experience. If you are interested in helping young women obtain an Academy education and help make a difference in the community they live in, please call 477-8203 for more information.