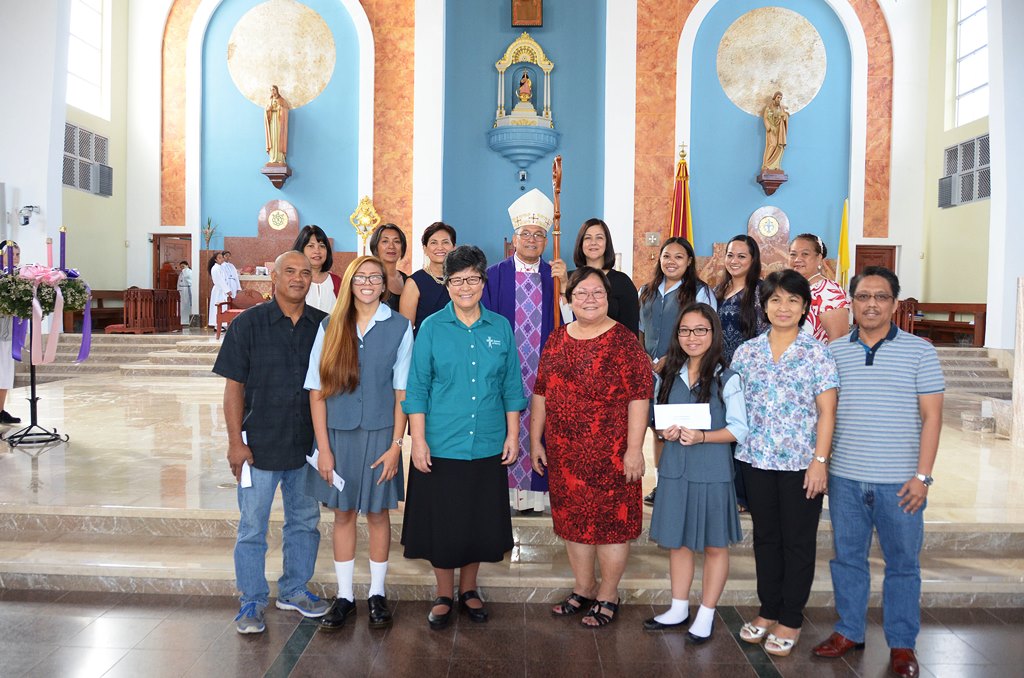 Back row (L-R) – Sarah Leon Guerrero, Flora Duenas, Anita Arriola, Archbishop Anthony Apuron, Dana Guiterrez (Representative for the Jane Wha-Young Kim Scholarship) Halana Lujan, Senior (Recipient- Jane Wha-Young Kim Scholarship) Jessica Lujan and Priscilla Lujan.
Front row (L-R): Pedro Tabilas , Brianna Tabilas, Senior (Recipient- Class of '75 Scholarship), Sr. Mary Angela Perez, RSM '64 (President), Mary A.T. Meeks '69 (Principal), Althea Fastidio,Senior (Recipient-Jane Wha-Young Scholarship) Edna and Ricardo Fastidio. (Not shown: Ann Marie Tabilas)
The Academy of Our Lady of Guam is grateful for the generous alumnae donors who have made it possible for some of our students to obtain a college preparatory Catholic secondary education. These donors are truly exemplary of Catherine McAuley's mission to help educate women and children. Recently, the school received scholarships from the Class of 1975 and Yuri Kim, from the Class of 1989. These scholarships were presented at the school's Advent Mass held on December 18, 2015 celebrated by the Most Reverend Archbishop Anthony Apuron.
Over twenty percent of the students at the Academy of Our Lady of Guam are in need of financial assistance. Through the years, the school has been able to establish and grow donations from its alumnae in order to assist young women complete their Catholic college preparatory secondary education at the school and be part of the Academy Legacy.
Brianna Tabilas, a senior, received the scholarship from the Class of 1975. In celebration of their 40th Anniversary, the Class of 1975 presented a scholarship to a graduating senior at the Academy. The intent of the gift is to assist a senior with financial assistance so that she will be able to graduate in 2016 with her class.
Althea Fastidio and Halana Lujan, both seniors, received scholarships for School Year 2015-2016 from the Kim family. Kenneth Kim, husband of the late Jane Wha-Young Kim, established the Jane Wha-Young Kim Scholarship in 2007. Their daughter, Yuri Kim, is a 1989 graduate of the Academy and currently serves as an Ambassador for the United States. Mr. Kim established this scholarship in his wife's memory because she was a "strong believer in the strong power of faith and strong power of education."
Founded in 1949, the Academy of Our Lady of Guam has been dedicated to nurturing and mentoring young women and empowering them to make significant contributions in Church, society and the world at large. Ninety-nine percent of graduating seniors go on to higher education and receive acceptance at top colleges and universities. Academy alumnae are known to hold leadership positions as doctors, judges, lawyers, corporate executives, educators, Church leaders, religious leaders, foreign relation officers, public officials, and many more. The hallmark of the Academy is excellence and the school is proud of the many young women who have been part of the Academy family experience. If you are interested in helping young women obtain an Academy education and help make a difference in the community they live in, please call 477-8203 for more information.
---