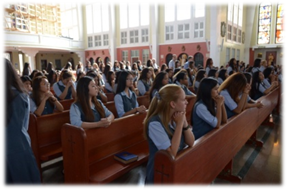 A Mass of the Holy Spirit celebrated by Fr. Tom McGrath ushered in the new school year at the Academy of Our Lady, the only all girls high school in Guam. Catching the Spirit, the student body consisting of over 400 young ladies, form the next generation to be rooted in the charism of Catherine McAuley, foundress of the Sisters of Mercy. With a dedicated faculty and staff, the Academy promotes the holistic development of this diverse population of young women fostering in them academic excellence, responsible leadership, global awareness, social justice, and compassionate service for all in the tradition of the Catholic Faith.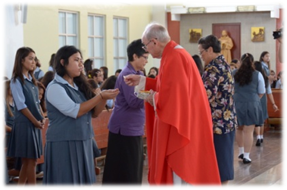 The first day for the students was accompanied by all the emotions typically associated with the start of a new school year – jitters, excitement, new challenges and opportunities. Spirits remained high as the first Assembly for the school year opened with prayers and the blessings of the students, faculty and staff as well as the welcoming of the new President, Sister Mary Angela Perez, RSM. Although she is new to her role, she is not new to the school. Sister Angela graduated, taught, and also served as principal at the Academy. In her opening remarks, Sister Angela focused on the school's title, Academy of Our Lady of Guam, and gave her talk based on three parts of the title: academic excellence, faith, and service. Filled with enthusiasm, Sister Angela encouraged the students to feel at home at the Academy, especially since they are dearly loved by God, and invited them to reflect on the pop song titled "Fight Song" (by Rachel Platten) as it played through the loud speakers; they were also invited to get off their seats and dance to the rhythm of the song. Other highlights throughout the first week of school to extend a warm welcome back to school, included a fashion show of the "do's and don'ts" of the school attire, ice-breaker competitions, and a "Welcome Breakfast" for the freshmen and new students.
The years at the Academy offer young ladies an amazing unforgettable high school experience. Most importantly, they are able to forge friendships that last a lifetime. In the words of Catherine McAuley, "We should be shining lamps, giving light to all around us." Let us be a shining light to all. Blessings for a wonderful school year!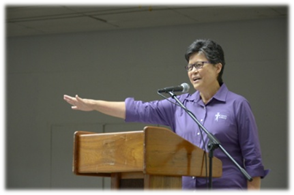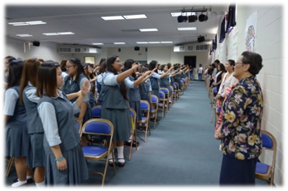 ---