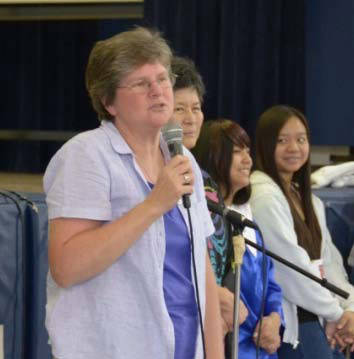 Sister Lisa Griffith, RSM addressed Academy students at a special Halloween Assembly.
The Academy of Our Lady of Guam (AOLG) students, faculty and staff recently had the opportunity to meet the Executive Director of Mercy Education System of the Americas (MESA), Sister Lisa Griffith, RSM. As the director of MESA, her role is to ensure that the charism, values and tradition of Mercy is supported and sustained in Mercy schools worlwide.

According to Sr. Lisa, there are two types of Mercy schools: sponsored and affiliated. In sponsored Mercy schools, the Sisters of Mercy have governance over the schools. However, in affiliated schools, the Bishop of the school's location has governance over the school. Currently, under MESA, there are 57 schools worldwide comprising of about 26,000 students ranging from nursery to high school.

Sr. Lisa's primary purpose while on Guam is to visit the different Mercy schools on island. Sponsored Mercy schools in Guam are Infant of Prague Nursery and Kindergarten and Mercy Heights Nursery and Kindergarten. The affiliated schools in Guam include Bishop Baumgartner Memorial Catholic School, St. Anthony Catholic School, Santa Barbara Catholic School and Academy of Our Lady of Guam.

In addition to visiting Guam's Mercy schools, Sr. Lisa also took part in the celebratory conclusion of the 70th anniversary of the Religious Sisters of Mercy (RSM) on Guam. She attended the culminating Mercy 70th Anniversary events on November 5, 2017 inclusive of the closing Liturgy Celebration at the Agaña Cathedral-Basilica and the Gala Dinner at the Hyatt Hotel.

The Academy of Our Lady of Guam was one of the first Mercy schools Sr. Lisa visited. Academy Administrators, Sr. Mary Angela Perez, RSM (President) and Mary Meeks (Principal), gave Sr. Lisa and other Sisters of Mercy, a tour of the Academy campus. While touring the school, they also visited students in their respective classes and met with the school's faculty and staff. On the day of her visit at the Academy, a special Halloween Assembly was held. Sr. Lisa helped judge the school's annual Halloween costume contest and bonded with everyone present as the Assembly. To wrap up her visit, the Academy gave a merienda in her honor.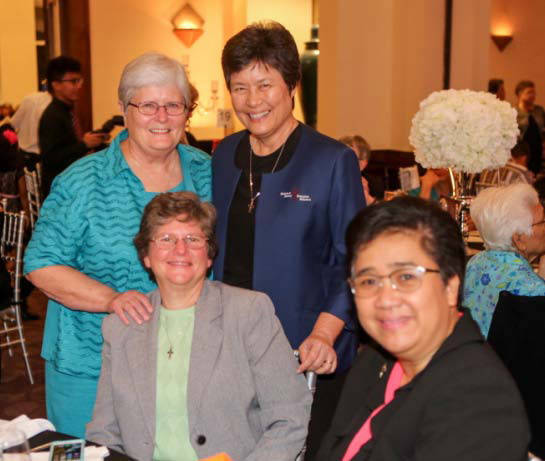 Sr. Lisa Griffith at the Mercy 70th Gala Celebration held on November 5, 2017 in honor of the Sisters of Mercy on Guam. Pictured left to right: (sitting) Sisters Lisa Griffth and Maria Rosario Gaite (Sisters of Mercy Guam Leadership Team) ; and, (standing) Sisters Jane Hotstream (President, Sisters of Mercy South Central Leadership) and Mary Angela Perez (President) Academy of Our Lady of Guam.