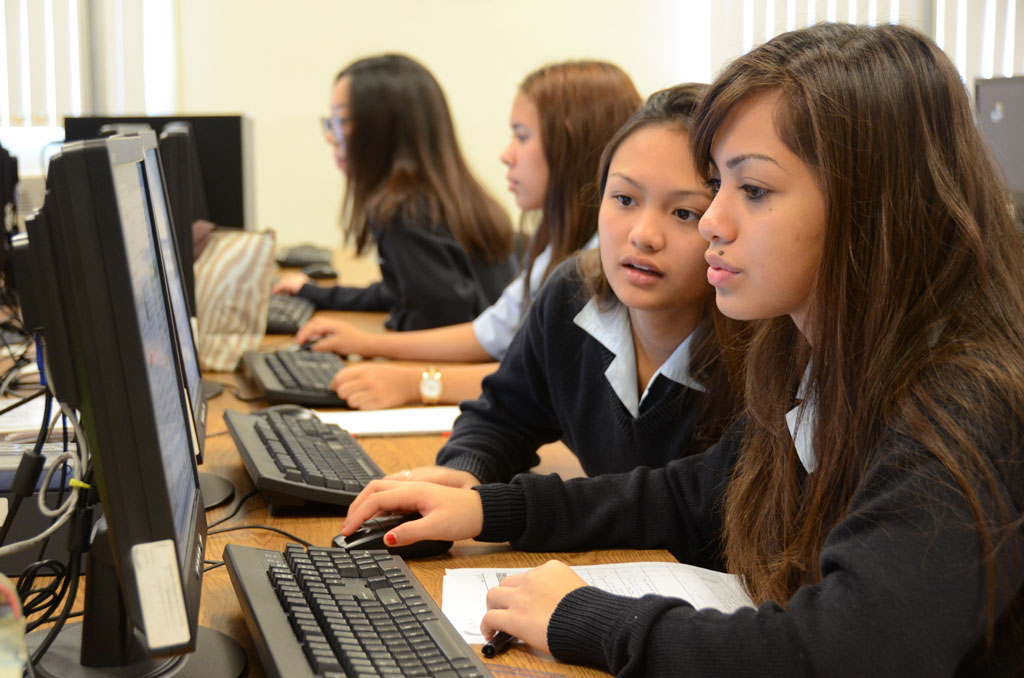 Academic Life
The Academy is a fully accredited college preparatory Catholic high school for young women whose curriculum provides for the complete development for any ambitious college or career-bound young woman. Classes are small with a student-teacher ratio of 17:1, which promotes a more individualized learning atmosphere.
Academy students excel in both academic and athletic endeavors. Students benefit from various teaching strategies that maximize student learning and address unique learning styles. The teachers facilitate learning by providing experiences which are motivating and challenging to the students. The school's Science, Technology, and Resource Wing is equipped with numerous computer labs, state-of-the-art Science Labs, and a spacious Library. Students have access to the use of technology throughout the school campus via Wi-Fi. Through various methods, students at the Academy are given the tools needed to nurture and enhance learning.
The minimum requirement for graduation from the Academy of Our Lady High School is 23.0 units of credit, plus the credits earned in Theology. Students must complete all required courses as prescribed by the Territory of Guam, the Archdiocese of Agana, and the school.
Honor courses are offered in all major subject areas. Advanced Placement (AP) Courses are also offered in various subject areas. The advanced Placement Program provides an opportunity for secondary students to pursue and receive credit for college-level course work at the secondary school level. Set units for either the "College Preparatory Program" or the "Business Program" are outlined for the students.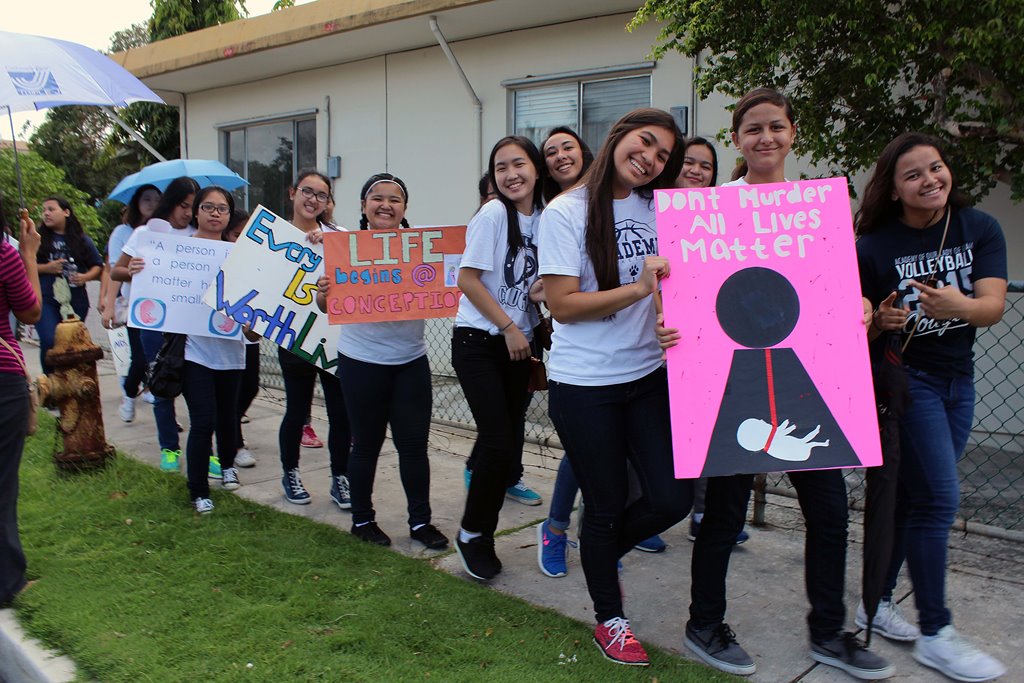 Community Life
Involvement in school activities and organizations increases student learning. Participation in co-curricular activities enables students to be more globally aware and allows them to practice responsible leadership as well as exemplify Christian moral values. Numerous clubs and a variety of social events are available at the Academy to enhance academic life. Organizations and clubs available for students to join include, but are not limited to Japanese, Chamorro, Chinese clubs, Soroptomist Club, Responding To the Spirit of Mercy (RSM) Club, Mock Trial Team, National Forensic League, Model U.N., Academic Challenge Bowl (ACB) Team, National Honor Society, and the Student Council. Annual events include, but are not limited to the 5K "Fund" Run/Walk, Songfest/Family Night, Junior-Senior Prom, Ring Ceremony, Christmas Show, and the Spring Production.
In addition to the academic life, the many student services and activities offered promote community, school spirit, and camaraderie. The opportunity and experiences offered are limitless. The Academy, which has been in existence for 66 years, has been home to our many students and families. Our parents and families are always welcome to participate in the life of the Academy alongside their daughters and to always come home even after graduation.
Athletic Life

The Academy fields interscholastic level teams in volleyball, basketball, cross country, softball, rugby, paddling, track and field, soccer, tennis, and golf. Our interscholastic teams have traveled to Japan for the Far East Asia Tournaments in both volleyball and basketball. The school prides itself in winning the Far East Asia Volleyball Tournament and bringing home the trophy numerous times. In addition to interscholastic sports, the Academy offers a varied physical fitness program planned year round for fun and fitness. The school has a spacious air-conditioned gymnasium complex used year round for sports, events, entertainment, and enjoyment.