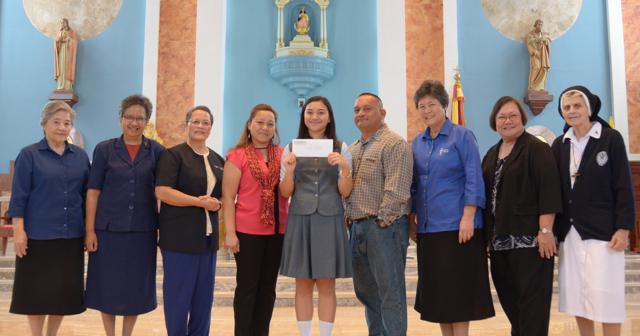 The Mercy Action Marianas, Limited (MAML) recently presented the annual Catherine McAuley Scholarship to Erin Pangelinan, a Junior at the Academy of Our Lady of Guam. MAML, a sponsored ministry of the Sisters of Mercy, exists to support the works of Mercy that will foster human dignity, help finance the education of students seeking a Catholic education and provide for the quality of life of the aging and infirmed Sisters of Mercy. Pictured left to right: Srs. Mary Brigid Perez, Marian Therese Arroyo (Administrator,
Sisters of Mercy of the Americas, South Central Community-Guam Region)
, Orlean Pereda, Mrs. Helen Pangelinan, Erin Pangelinan, Mr. Aaron Pangelinan, Sr. Mary Angela Perez (AOLG President), Mrs. Mary A.T. Meeks (AOLG Principal), and Sr. Dorothy Lettiere.