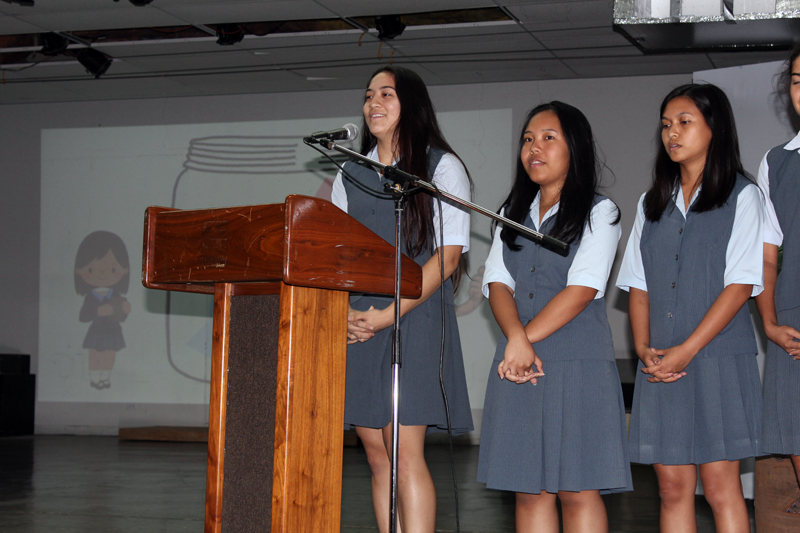 Academy of Our Lady of Guam Seniors (pictured left to right) Joie Blas, Jenny Espina, and Jaycie Chan present details regarding the FEED 25 AOLG participation and project during school assembly.
The Academy of Our Lady of Guam students recently raised approximately $4,900.00 for FEED 25. A social justice project for the Philippines, FEED 25 assists the Ateneo de Manila University's Ateneo Center of Educational Development ("ACED") efforts to feed hungry children who attend Ateneo sponsored public schools.
Poor hungry children in ACED sponsored schools are fed at least once a day with the project. Hence, they are given a chance to learn better in hopes of breaking out of the cycle of poverty one day. ACED designed and volunteer supported kitchens produce a highly nutritious meal for the cost of approximately 25 cents per meal. Poverty is prevalent in the Philippines, and nearly twenty percent of the population in the Philippines suffers from hunger, which is a barrier to learning.
This is the second year Academy students united to feed hungry children with this specific project. Approximately 400 students from the Academy participated during the Lenten Season to raise funds for FEED 25. Organized through, but not limited to their theology classes, all class levels, from 9th to 12th grades, donated monies they would have spent on themselves as a personal sacrifice. The students also donated goods for use in classroom auctions and other creative projects to raise FEED 25 funds from their respective classes. The Ateneo de Manila University, a trusted and internationally known institution for more than 150 years, accounts for all donations.
FEED 25 has three main objectives: 1) teach students how to design and implement a social justice project for other students around important social and Catholic based principles; 2) provide donations to feed malnourished children attending ACED sponsored public schools in the Philippines; and, 3) provide a FEED 25 model for other schools in our region and nationally.
Academy students chose to continue to support FEED 25 for a second year. With FEED 25, they were able to work with a carefully designed model for changing systems that remove barriers to poverty and meaningful access to school and learning. With the money raised by the Academy students, FEED 25 will be able to feed 150 children one meal a day for one school year. In summary, all students agreed that after taking part in this project, the valuable lesson learned is "you receive more when you give." Kudos Academy students for your tremendous effort and sacrifice to give to those in need and to make their lives better.
If you are interested in helping out with the FEED 25 project with the Academy students or for more information regarding the school, please contact the school at 477-8203.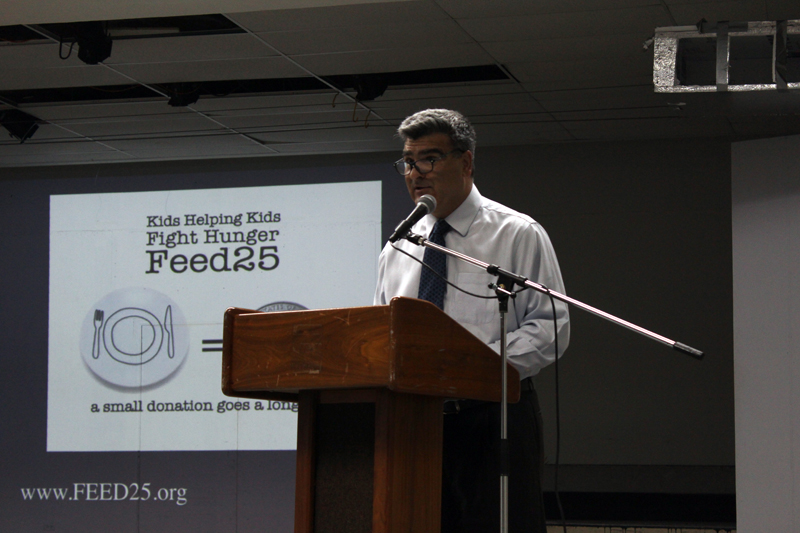 Attorney Rod Jacob, the International Liaison Partner for Ateneo de Manila University for the FEED 25 project, speaks at an AOLG student assembly regarding FEED 25 and participation in the project.